ACADEMICS
Although, now-a-days people are more involved in preparing student's future ready but nothing can be replace academic excellence. Academic excellence is pivotal in laying the foundation of learning, holistic development of mind and personality. The school follows the State Board curriculum through continuous comprehensive evaluation (CCE).
Teaching Methodology
Our school adopts new methods of teaching through PPTs, Audio/Visual CDs, Online Teaching, Quiz, Role play, Debates, Demos, Experiments,  Enactments and Exhibitions
Home Tasks
Our school has broken the barriers of conventional methods of learning. Teachers ensure that students carry less on their shoulders in the form of notebooks and homework and carry more in their brain in the form of knowledge.
KINDERGARTEN
Learning at the Kindergarten is designed to be an enjoyable experience for children, thus making them want to come to school every day. By increasing student interest, by making learning fun but meaningful, we lay the foundation for developing a lifelong interest in learning. Children learn through playing games, songs, sports and creative activities.
Kindergarten creates an atmosphere where children feel respected and secure by providing a place of warmth, fun, joy and laughter for the little ones. Children are taken out on a nature walk where they observe the beauty of God's creation.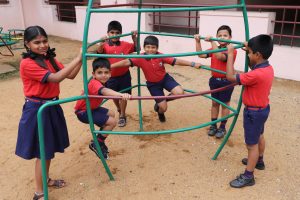 GRADE 1 to 5
These are the foundation years of education, where various skills, preferences and abilities are developed.
We recognize that children at this level have their own unique abilities, interests, aspirations and expectations. Therefore, our curriculum in these classes is structured to encourage and motivate them to become self-confident, self-reliant and self-disciplined, and thus help them achieve full potential. Our teachers use multiple learning styles to help students retain information and strengthen understanding
A variety of strategies and methods are used to ensure that all students have equal opportunities to learn.
MIDDLE SCHOOL – GRADE 6 to 10
The Middle School Program at BVN comprises of Grade VI to Grade X. In the Middle School,students build on the foundations laid in previous years. New challenges are met , as communication, reasoning, problem solving and value judgement become more complex. Emphasis is given to application of knowledge achieved through differential teaching methodologies such as student-led presentations, research projects, and technology-led learning.
The curriculum is designed in a way that promotes activity-based learning with sufficient opportunities for exploration, understanding the concepts of hypothesis, experimental procedures, observations and interfaces and activities that students can relate to real life scenarios.
Students in the Middle School pursue a common, comprehensive, academically-oriented curriculum, which prepares them for success in High School.
The performance of the students is evaluated through Continuous and Comprehensive Evaluation (CCE) to reduce the workload of the students by means of evaluation of other activities. As part of this new system, students' marks will be converted into grades which will be evaluated through a series of curricular, co-curricular and extra-curricular evaluations along with academics.
Higher Secondary (Part I Tamil , Part II English, Part III Groups offered)
Group I (Code 2503) – Maths, Physics, Chemistry, Biology.
Group II ( Code 2502) – Maths, Physics, Chemistry, Computer Science
Group III (Code 2702) – Computer Applications, Accountancy, Commerce, Economics
Group IV (Code 2708) – Business Maths,  Accountancy, Commerce, Economics