february-02
Fancy dress competition for KG kids
"Knowing is not enough, we have to apply.Willing is not enough, we have to participate."
BVN kids did that! In this fancy dress competition our children performed like Swami Vivekananda, Astronaut Kalpana Chawla, Jhansi Rani ancient telephone, popcorn etc. These things make them or encourage their participation, imagination and developing their vocabulary and communication skills too. The kids and teachers were felicitated by the Principal and Correspondent.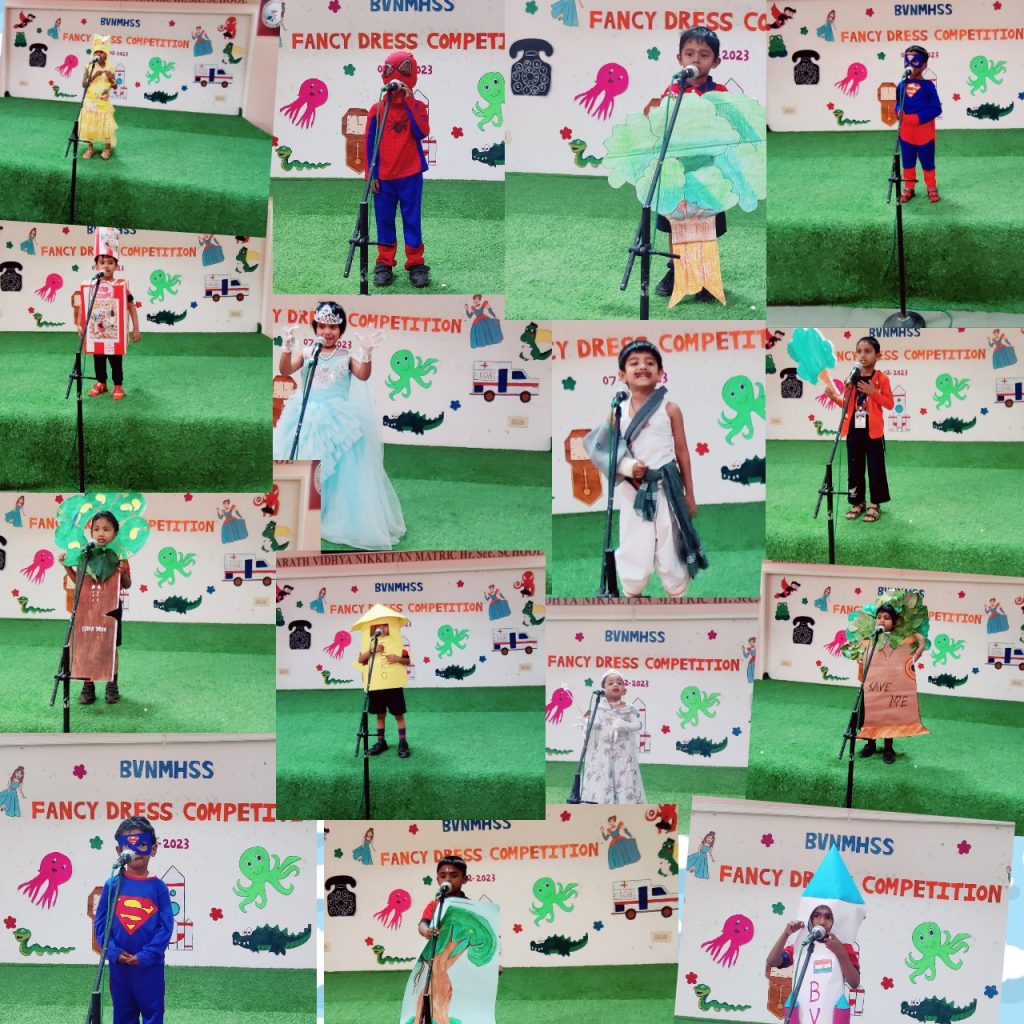 ---
November-14
Children' s Day Celebration- 2022
" A day dedicated to kids"- This Monday (14th November 2022) Bharath Vidhya Nikketan Matric Hr Sec School celebrated Children' s Day. "The Children of today will make India of tomorrow. The way we bring them up will determine the future of the country", Nehru said.
Children remind us the birthday of Pandit Jawaharlal Nehru, country's first Prime Minister.
Mrs. Aity John (The President of Inner Wheel Club, Pollachi) was the chief guest for this celebration. The Management, Principal and staff welcomed the guest to the dias. The parents also attended the program. The chief guest gave a short speech on this occasion. The students and teachers of BVN family performed colourful events like speech, songs, Dance, etc., The chief guest gave away the medals and certificates to the young winners. Principal Mr. Santhosh Kumar felicitated the children. Dr. Shanthi Anand, the Correspondent of BVN School, expressed her gratitude to the chief guest, the kids, the principal and staff. The celebration ended with National anthem.
"In a way these young children made the day very immemorable for all who were present".
---
August-22
Report on Independence Day Celebration
We, BVN family celebrated our Nation's 75th Independence Day on 15th August 2022 with great joy and pomp. On this day the sense of happiness and pride could be clearly seen on the faces of all the people as India was celebrating 75th Independence Day. The program started with prayer at 10 AM. Dr.  V Anand sir our Secretary was the chief guest for our Independence Day celebration. After the 'Tamil Thai vazhthu' the flag was hoisted by our chief guest. Our school choir sang the 'Kodipadal'. Pledge was recited by Bharath Raj of X-A. Bhuvana of X-A delivered Welcome Address. After that our Principal Santhosh Kumar sir addressed everyone and honoured the chief guest. Dr. V Anand sir delievered a wonderful speech. This was followed by prize distribution program in which the students who got prizes for different competitions. Sweets were distributed for everyone. After that different type of cultural programs like Instrumental music, song, speeches (both in Tamil and English) , Bharatanatyam ,Western Dance, Mass Drill, Silambam, etc., were conducted . All the programs were outstanding and mesmerizing. Kavya of X-A delivered the Vote of Thanks. After the vote of thanks everyone sang National Anthem and the school was dispersed.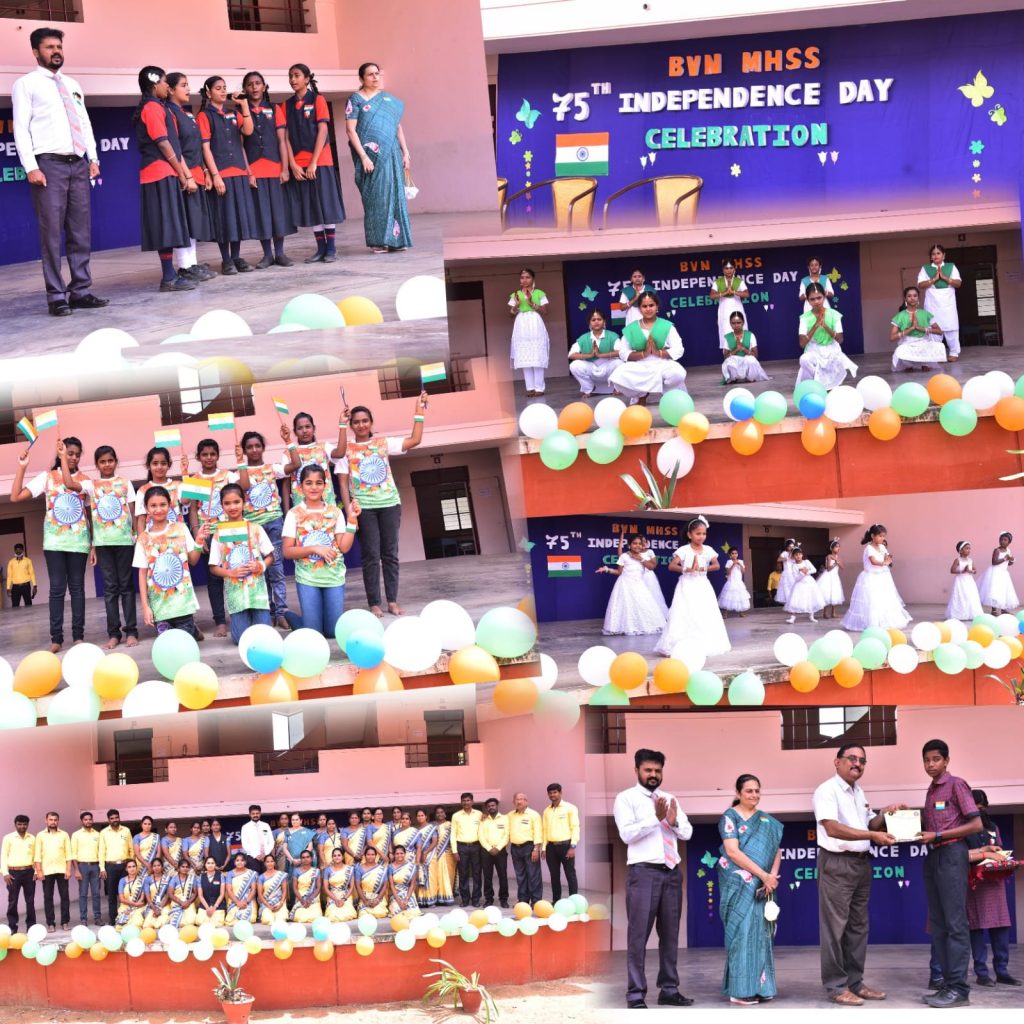 ---
August-05
"Every chess master was once a beginner"
*BVNMHSS*, hosted the *Intra- school chess tournament* on *02. 08. 2022* to provide a platform to the students to improve their logical thinking, analytical reasoning and problem solving. Young budding talents from Grade 3 to 12 participated in which they were categorized into 4 groups.
The champions are:
Category 1 – M Tharun of Grade V
Category 2 – R Niranjen Balaji of Grade VIII
Category 3 – V Iswarya of Grade IX
Category 4 – A Bharathi of Grade XII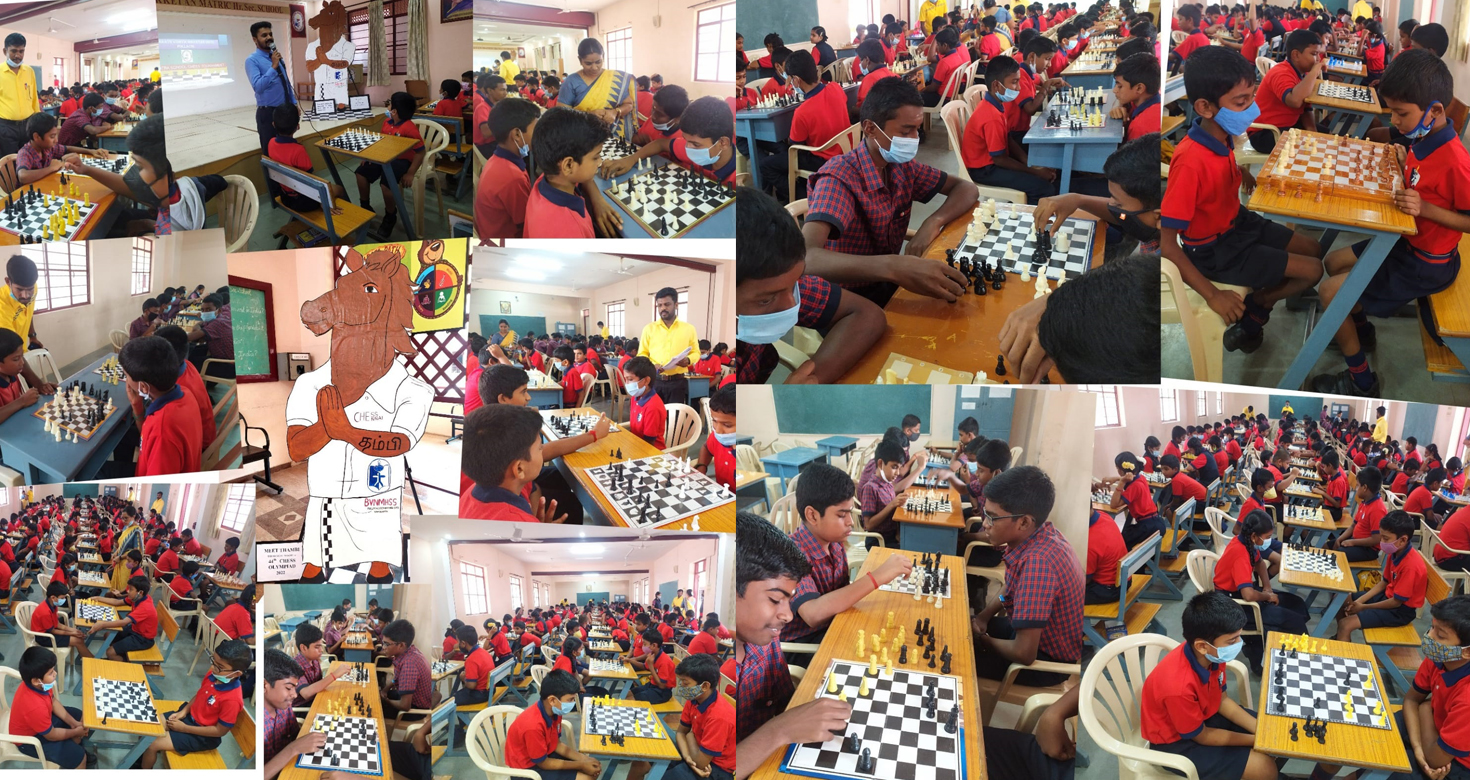 ---
July-06
Bharath Vidhya Nikketan Mat Hr. Sec School:

A function to honor the achievers in the public examination.
Bharath Vidhya Nikketan School campus held a ceremony to honor students who have achieved success in this academic year of class 10th, 11th & 12th Public Examination. On the occasion, the Principal of the school, Mr. Santhosh Kumar delivered the welcome address. Correspondent of the school Mrs. Dr. Shanthi Anand delivered the keynote address. The Secretary of the school Dr. Anand congratulated the students and also felicitated with prizes. The Management and the Principal honored the teachers and appreciated the parents who supported for this great achievement. The ceremony ended on a sweet note with National anthem.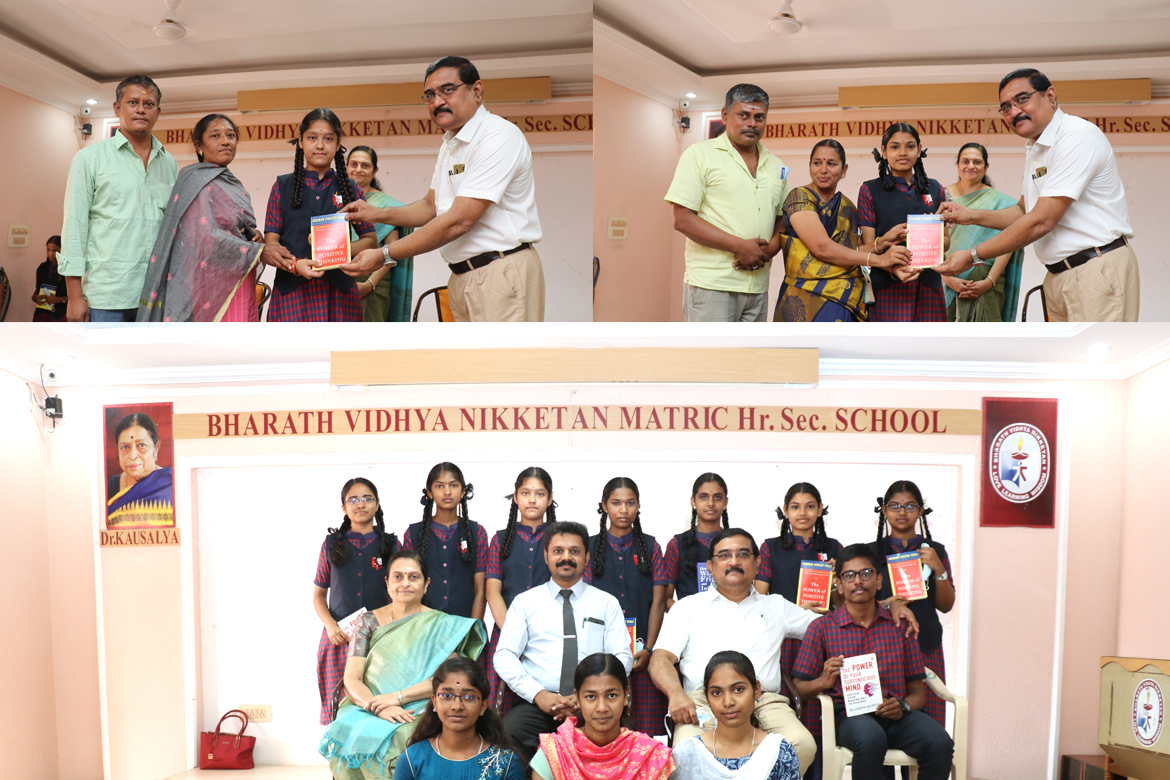 ---
"A GENUINE SMILE COMES FROM THE HEART….
BUT A HEALTHY SMILE NEEDS GOOD DENTAL CARE…."
Stating to the above quotes, from IDA(Indian Dental Association) –Pollachi and udumalaipet  Branch  various Doctors came to our school to provide dental awareness among the students. Our Principal Mr. H K Santhosh Kumar  gave Welcome address and thanked them. Doctors gave demo on "Brushing Techniques" and around 650 students screened their teeth in free dental check up camp.
"SEEING YOU SMILE MAKES US SMILE TOO…..
LET YOUR SMILE CHANGE THE WORLD…………"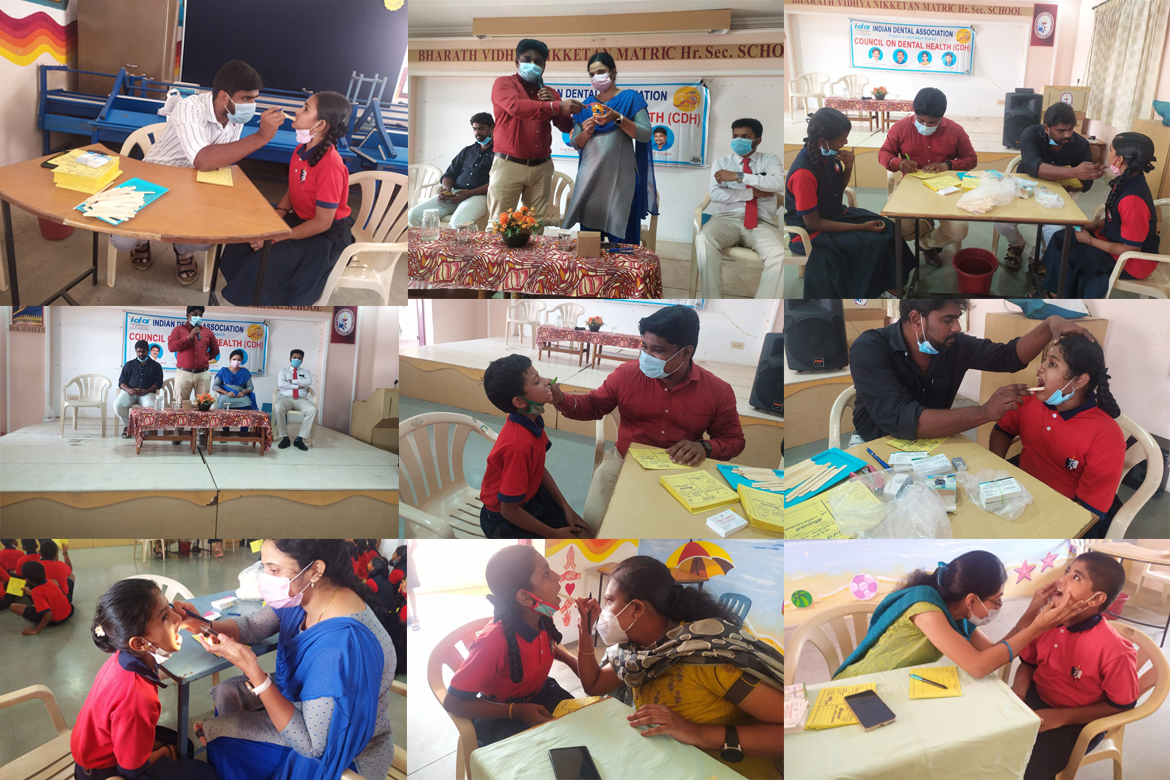 ---
Mar-22
"Some people dream it to happen…
Some wish it would happen…. And others make it to happen"
Stating to the quotes our budding talents enjoyed Book Free day as Sports Day celebration on 26/03/2022. Our Principal Mr H K Santhosh Kumar commenced the Sports Day activities by waving the flag. Various sports activities such as Running,   Water filling , Triple the ball, Tunnel ball Run ,Balloon Bursting for  the classes  I to V was conducted. Our children enthusiastically participated and bagged certificates and medals.
"Your goals should be out of reach, but never out of sight…"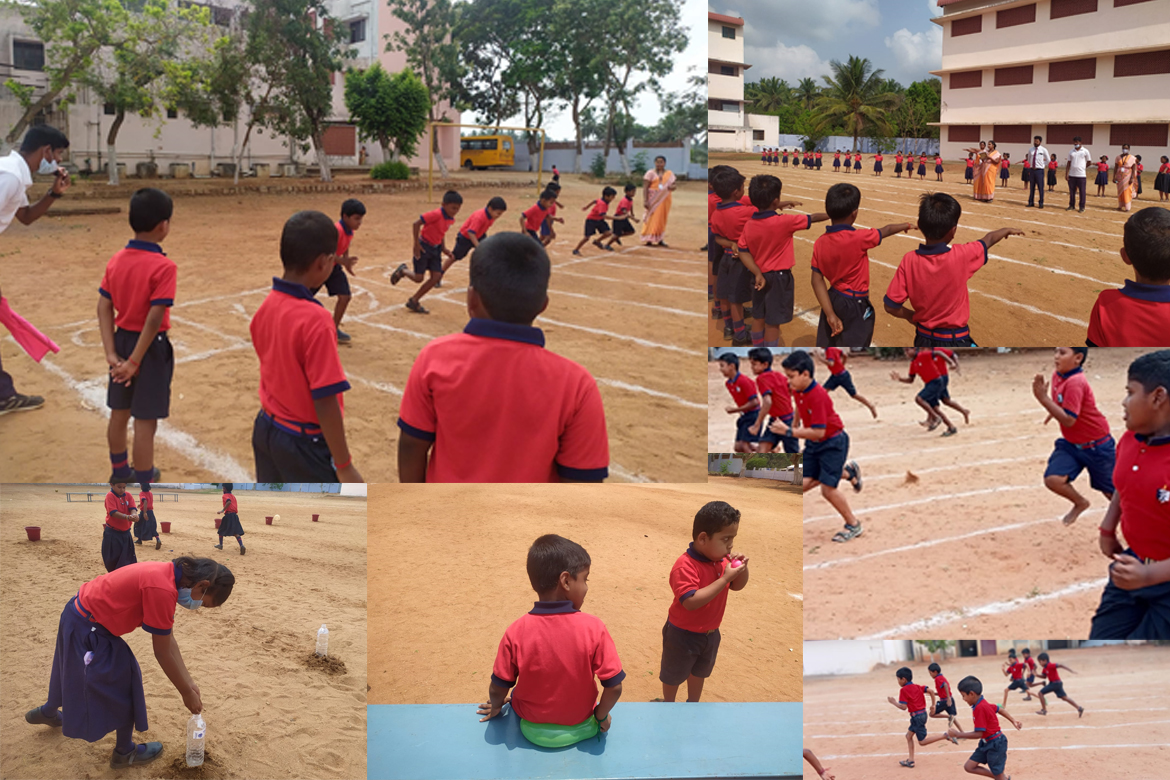 ---
2020-2021
OCT-21
"When we sit with Sincerity and Love in our Hearts…..
For God,
We become Receptive To ….
Receive What
God send us from within!!!!!!"
We are also providing spiritual education by promoting cultural heritage to the students by celebrating various festivals such as Saraswathi pooja , Navaratri Golu pooja in our school.
Here with we are acknowledging with the collage.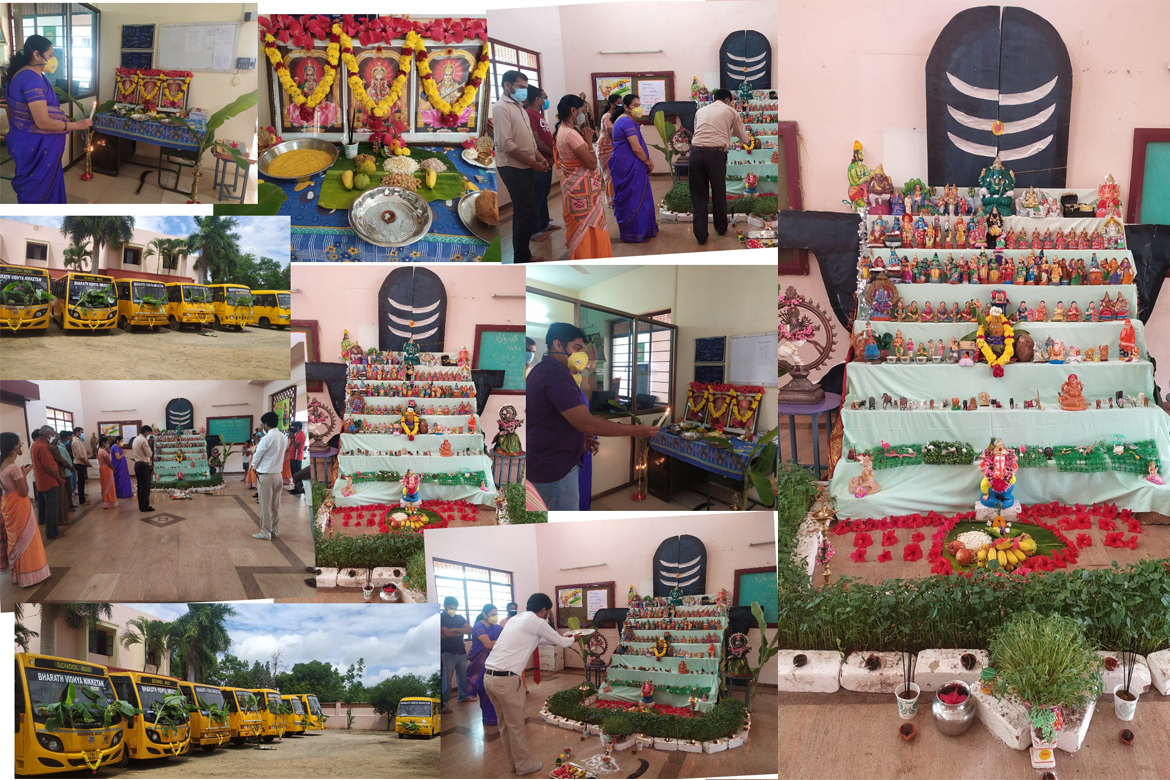 ---
Every year on September 5, the birth anniversary of Dr Sarvepalli RadhaKrishnan is being celebrated as Teachers' Day .A great scholar, Philosopher and a Bharat Ratna recipient. He was the first Vice –President and Second President of Independent India. During his tenure as a President Of India (from 1962-67),his students and friends requested him to celebrate his birthday. He replied ,"Instead of celebrating my birthday, it would be  my proud privilege if September 5 is observed as Teachers' day." Since then, his birthday has been celebrated as Teachers' Day.
"True Teachers are those who help us think for ourselves".
– Dr Sarvepalli RadhaKrishnan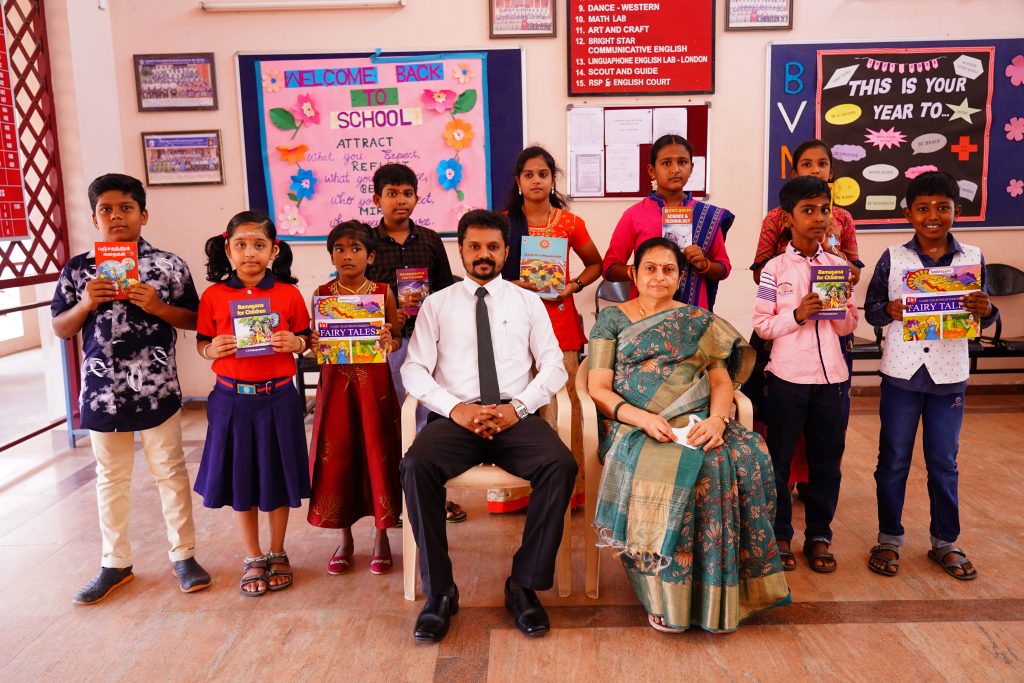 "EDUCATION IS THE KEY TO UNLOCK THE GOLDEN DOOR OF FREEDOM"
On account of, celebrating Independence Day virtually, on August 14, 2021, we conducted various activities for promoting patriotism among the students. We conducted Tamil Elocution competition on various topics under 4 categories for the classes I to VIII. Our students participated enthusiastically and won prizes.
"ART OF APPRECIATION IS A PRICELESS GIFT THAT WORTH MORE THAN ANYTHING ELSE."
Here we acknowledge the Prize Winners with the token of Appreciation.